Success Skills Press is a subsidiary of Robert W. Lucas Enterprises. Since 2015, we have created and distributed competitively-priced, quality books, publications, and associated materials designed to coach, educate, and inform customers. In part, we accomplish this by partnering with manufacturers and organizations that share our values of developing easily accessible and environmentally-friendly products.
Mission:
To provide timely, affordable, and quality books and resources that aid readers in building knowledge and skills that enhance their personal and professional effectiveness.
Vision: 
To offer easily-accessible and beneficial nonfiction publications on a variety of interesting and useful topics through bookstores, libraries, and online worldwide.
PUBLICATIONS:
The Complete Guide to Ocean Cruising: Everything You Need to Know for a Great Vacation 350 pages     ISBN:978-19389884046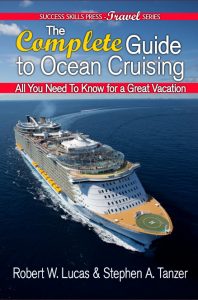 Save Money and Learn How to Get the Most from Your Next Cruise.
For years, the authors have traveled the world and have seen the good, bad, and ugly related to ocean cruising. They wrote this book to share their experiences and lessons learned from over one hundred and sixty collective cruises. The suggestions included in The Complete Guide to Ocean Cruising are for new and experienced cruisers alike. They provide a comprehensive approach for identifying, booking, and enjoying cruises that meet your needs, expectations, budget, and preferences.
Whether you are new to ocean cruising or just curious about how they differ from river cruises or other types of traditional land-based vacations,  The Complete Guide to Ocean Cruising is for you. In it, you will find explanations about the cruise industry, cruise process, helpful tips for saving money, a resource section with useful cruise-related information, and answers to virtually any question you might have about this form of travel.
View the PREVIEW below for more information.
The Survivor's Family Guide: A Resource for Loved Ones After Your Passing by Robert W. Lucas 194 pages     ISBN: 978-1-939884-02-2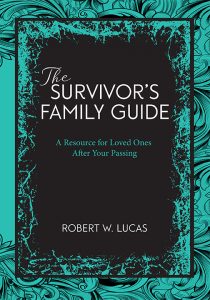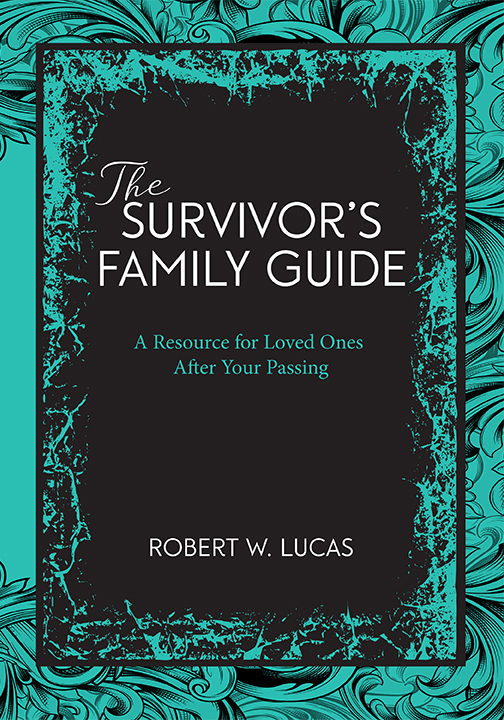 If you died tomorrow, would your loved ones know how to access all your social media, personal websites and blogs, financial accounts to pay bills, and ultimately close down your accounts? Without user names and passwords and a Durable Power of Attorney in hand, he or she could not act in your place. Where do you keep that information?
The Survivor's Family Guide is designed to provide a tool for everyone to prepare for the inevitable day when he or she is no longer on this Earth. It is an indispensable resource that anyone can complete to provide the type of information that only they have related to personal and business affairs. By using this book to share crucial information and last wishes or messages with your loved one, you are giving a lasting gift of love. It is a resource for those who are dear to you. By following the prompts within this book and providing valuable information, you can help ease the burden of dealing with your passing for your spouse or significant other. With it, they will have most of the important information that they will need to settle your estate, handle arrangements for your final departure and move on with their life.  They can also refer to The Survivor's Family Guide in the future as a source of important information about you.
People who can benefit from The Survivor's Family Guide include:
Seniors
Family members and caretakers
People facing serious illness
Parents and young adults
People living overseas
Military members
People planning travel or overseas assignment for jobs
Anyone wanting to help loved ones
View the PREVIEW below for more information.
Make Money Writing Books: Proven Profit Making Strategies for Authors  162 pages        ISBN: 978-1939884008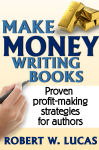 This concise publication contains proven strategies used by the author of thirty-two books to create a sound revenue stream and sell almost half a million books. In addition to benefiting from lessons learned about the publishing industry and process, readers will gain hundreds of tips and strategies for building and maintaining a solid author platform. These strategies can lead to increased book sales and serve as a basis for residual income.
View the PREVIEW below for more information.
231 Ways to Say I Love You…and Mean It  150 pages ISBN: 978-1939884015 

If you are looking for ways to win the heart of someone else, reignite the spark in your relationship and bring passion, excitement, communication and fun to your life, you are holding the answer. 231 Ways to Say I Love You is filled with simple, proven creative strategies designed to fan the fires of your love and romance.  The examples in this book are intended to touch the heart of your loved one, help foster sound relationships, better demonstrate trust and caring, and fall deeper in love and stay that way.
View the PREVIEW below for more information.