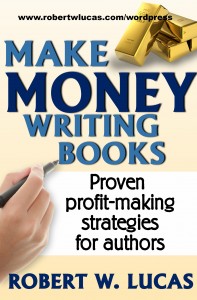 Many authors write books because they have a variety of intrinsic or extrinsic motivators pushing them to do so. Some write because they are driven by an internal need to communicate with the world. For example, they might desire to leave a mark on the world, a legacy for their family, or they may have a message they want to share. For others, they might want to attain fame and fortune.
Whatever your reason for wanting to be a new author or striving to become better at what you do, building a personal brand should be a crucial part of your marketing strategy. By branding yourself and your products and services, you have a better chance of success.
So what is personal branding? It is "a way of associating yourself and your products and services in an effort to make them unique, recognizable and forever linked to you." By working toward this goal, you can potentially do what thousands of other successful authors have done before. Think of some of the famous authors whose books you have read or that you know about because of their reputation (e.g. William Shakespeare, Louisa May Alcott, Charles Dickens, Mark Twain, J.K. Rowling, Jack Canfield, or Tom Peters). Over half of the authors I just named are dead. Still, their names and their books live on and are read to this day. Wouldn't you like that to be true for you once you are gone? Obviously they had well-written works or this would not be the case. Also, they have a strong personal brand in that the talent that they brought to the page was admirable and there was strong reader support. As a result, many of their works have gone on to survive them. In the case of some of the classic authors, their books live on in other formats (e.g. plays and movies) and enjoyed by various generations.
To effectively follow in the footsteps of these successful authors, your challenge is to be creative in developing a strategic plan that will help you gain and maintain notoriety. One simple way to do this is to develop books that are readable and that people look forward to holding. Start by preparing and executing your writing plan. Next, add a sound marketing strategy that might include products and services (e.g. imprinted materials around the book theme or topic, audio/video components, a series that follows the original, and other such efforts). In doing these two simple things, you can potentially end up with ongoing passive income or residual income streams. These can easily generate revenue into the future.
To get an idea of how one author has done an excellent job at branding herself, think of what J.K. Rowling has done with the Harry Potter franchise. It will continue to create ongoing streams of income into the future whether she ever writes another book in the Potter series or not. For example, Universal Studios is in the process of creating a second section of their Harry Potter World, which already generates millions of dollars a year in revenue for the studio and for Rowling. There are also products (butterbeer, magic wands, wizard costumes, games, and many others.
For personal branding tips and strategies that can better position you to generate residual and passive income, get a copy of my Kindle book, Make Money Writing Books: Proven Profit Making Strategies for Authors.