Part of building a personal brand and building an author platform as an author is to continually reach out to others via your website, telephone, social media and through face-to-face networking opportunities (e.g. professional, social and other group meetings).
In such instances when you first meet someone, you will likely be asked, What do you do?" Many people have been taught to create an elevator speech to use in such instances. In other words, enough about yourself that you can share it by the time an elevator gets to the top of a building. The idea is to pique someone's interest so that they ask more detailed questions about you, your products and services that might lead to a business opportunity. The problem with this approach is that some buildings are taller than other. If you are going to the 100th floor, people will likely get bored if you drone on for the entire trip and it could be counter-productive.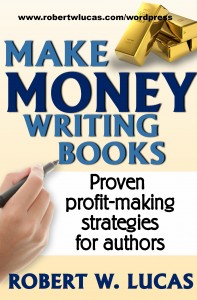 Instead of an elevator speech, I propose that you develop a quick response. To do that, choose one or two things that you want to be known for…your personal brand. One you identify these elements, write out a short introductory statement. For example, when I am asked what I do, my response is, "I am an award-winning author of thirty-two books. I also deliver presentations and training workshops on a variety of workplace topics." If this interests them, their next questions might be "What are your books about?" or "What types of programs do you offer?" Wither of these provides an opportunity for me to give a business card and to expand on what they inquire about.
For more ideas on how to build your personal brand and sell more products and services, get a copy of Make Money Writing Books: Proven Profit Making Strategies for Authors.