Publishing a book makes you an instant expert or celebrity. Take advantage of that elevated position to get in front of others as a presenter or trainer to share your knowledge, experiences, and skills, or to do readings of your book content. Doing this can help you build an author platform, increase your personal brand, and promote your book(s).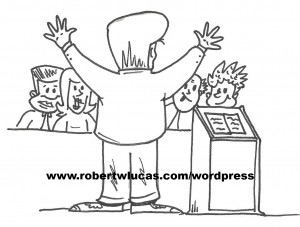 There will be many opportunities where professional organizations are having conferences and need concurrent session speakers or conference workshop facilitators. Often these groups will offer some type of travel or hotel assistance and a free conference registration where you have an opportunity to network and promote your books or sell them in the conference bookstore.
One thing I always have in my speaker agreement is a statement that as part of, or in lieu of, compensation for speaking, I get two six-foot long tables in the rear of the room to display my materials and sell my books. I also specify that I can put flyers on each attendee's chair. These flyers might be an announcement/order form for a new book, a compilation listing with images of all my other books, or other pertinent information about my products or services.
You want people to walk out of any meeting or presentation with materials that have your name and book or product information all over it. That is why I always put my name, Website, and contact information at the bottom of every slide I project in a presentation or at the bottom of every handout page.
At the end of the meeting or presentation I mention that I am available as a future resource on the session topic and point out that they have my contact information on my handouts (*always have handouts and put your contact information on each page at the bottom) if they need to contact me in the future. I am often surprised when I get a call or email from someone a year or so after an event looking for my products, services, or wanting to ask me a question.
As a side note, people who pay or are required to attend a training program or presentation often do not appreciate feeling like a captive audience when a presenter or trainer sells his or her wares from the platform. I suggest that you avoid overt references to your book or materials during your presentation unless someone spontaneously asks for more information about them. This is called "selling from the platform" and can really turn off your audience and sponsors. In such cases, give a brief, courteous response and let them know that you will be in the back of the room by your materials following the event and would be happy to talk further "offline." This will help demonstrate your professionalism and likely win you accolades from attendees and your program sponsor.
In many instances, you can parlay your knowledge into money-making opportunities by conducting workshops that teach people what you know and how they can also capitalize from the content. That is what I do. I have enjoyed good success with the content from this book and other materials I have written through the years. In some instances, I target geographic areas of the country or world that I want to visit and then contact professional groups to offer my services as a speaker and facilitator. In addition to potential back-of-the-room sales at these learning events, many of my travel and associated expenses can be deducted on my income tax return. Check with your tax professional or visit the Internal Revenue Service (IRS) http://www.irs.gov, or whatever agency handles income taxation in your country, to view current travel and expenses publications for details on how you might do likewise.
An important point related to book sales is that some states require you to collect and submit state sales taxes for sales within their borders. Make sure you investigate and comply with such requirements if you are going to sell books or products at meetings, presentations, or online through your Website.
Look for other opportunities to speak or deliver training to potential customers or people interested in what you have written. One possibility is to contact bookstores in your area or where you will be traveling for business or vacation to see if they will set up a presentation or book reading followed by a book signing. You can also set up such presentations through social or religious groups to which you belong or that you know about.
If you write non-fiction or workplace related topics, other potential audience targets might be business or professional groups, such as:
Chambers of Commerce.
Leadership groups.
Rotary Clubs.
Writers groups.
Libraries.
Schools and colleges with courses related to your topic(s).
Society of Human Resource Management (SHRM), Organizational Development (OD) and American Society for Training & Development (ASTD) chapters.
Professional groups that specialize in a particular topic area on which you have written (e.g. medical professionals, accountants, bankers, builders, teachers, sales people, customer service representatives, or whatever).
Book and warehouse stores that sell books (e.g. Costco, Sam's, BJ's Wholesale Club).
If your focus is fiction, consider groups such as:
Writers groups.
Active living facilities for seniors.
Libraries.
Book clubs.
Schools and colleges.
Country clubs.
Religious groups

.

Book and warehouse stores that sell books (e.g. Costco, Sam's, BJ's Wholesale).
The key is to get a number of these presentations or workshops scheduled at the beginning of each year before event calendars for groups fill up.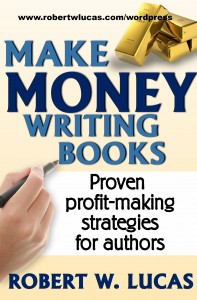 For additional strategies and ideas on how to market your books and make more money as a writer or author, get a copy of Make Money Writing Books: Proven Profit Making Strategies for Authors.