Most writers like to get paid right away for their work. Unfortunately, without prior previous successful writing or publication experience it is difficult to find a person, publication or organization willing to pay them.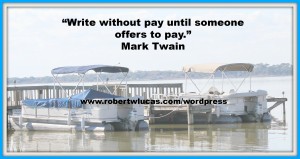 As a result of a lack of paid writing opportunities, many new writers seek alternative unpaid ways to get their name in print while they work toward part-time or full-time earnings.
One means of accomplishing this is to do an Internet search for websites that accept articles on a variety of topics without compensation (e.g. www.ezinearticles.com or www.selfgrowth.com).  The reason that someone would choose to go this route is name recognition. Since these sites have such a high visitor rate, articles are placed further up on Google search engine lists when people search for pieces on desired topics. This method also helps get the writer's name higher on searches for the writer's name.
There also sites that are willing to pay small amounts for various types of articles. Do an Internet search for paid articles sites to find these.
A second alternative is to create a blog, such as this one, and build Internet search traffic through social media, presentations and other promotional strategies. Ultimately, a blog can generate passive or residual income when Google or other advertisement links are placed on it. Search the phrase search engine optimization or SEO for more details on this strategy.
If you would like additional ideas and strategies for generating income, check out my book, Make Money Writing Books: Proven Profit Making Strategies for Authors.