From December 28th, 2013 until January 5th, 2014 you can get a discounted electronic copy of Make Money Writing Books: Proven Profit Making Strategies for Authors by Robert W. Lucas at Amazon.com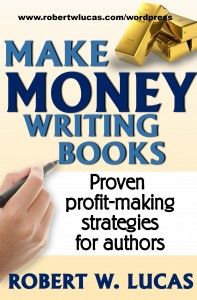 The key to successfully making money as an author and/or self publisher is to brand yourself and your company and to make yourself and your book(s) a household name. Part of this is face-to-face interaction with people at trade shows, library events, book readings, book store signings, blogging or guest blogging on a topic related to their book(s). Another strategy involves writing articles and other materials that show up online and are found when people search a given topic related to a topic about which the  author has written.
If you need help building an author platform, branding yourself and your book(s) or generating recognition for what you do, Make Money Writing Books will help. Bob's popular book addresses a multitude of ideas and strategies that you can use to help sell more books and create residual and passive income streams. The tips outlined in the book are focused to help authors, but apply to virtually any professional trying to increase personal and product recognition and visibility.