Some people write for personal pleasure, while others write for personal recognition and gain. No matter what your purpose or goal in writing articles or books, you should give thought to that before you sit down to put your first word on a computer or paper. This is because successful writing must come from the heart. You must be passionate about your message and your craft if you want to accomplish your goals.
To many writers and authors dread having to sit for hours putting thoughts on paper. They develop writers block, become stressed and agitated and truly do not enjoy the process. Surely, this is not a formula for success.
If you are going to attempt to become a professional writer or author, then you must adequately prepare yourself with the knowledge and skills necessary to accomplish achieve your aspiration. Life is full of obstacles and opportunities to fail. Why set yourself up for another incomplete task or put yourself in situation where there is no joy?
Nelson Mandela once shared his thoughts on why is important to dream big and go after what you want.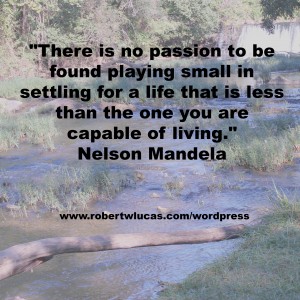 For creative and proven strategies on how build strong personal and product branding that can help increase your chances of financial success as an author by helping to create residual and passive income streams, get a copy of Make Money Writing Books: Proven Profit Making Strategies for Authors by Robert W. Lucas.