The only way for authors to sell books effectively is to let people know that the product exists. You may have the greatest book ever written, but unless you promote it and continually get the word out about it through multiple channels, it will be just words grouped together in print or electronic format. Do not lose sight of the fact that your goal is to increase book sales.
If you plan to have a publisher develop, print and distribute your masterpiece, you may think that your job is to write the content and that they will handle other aspects of the publication process and pay you royalties as the book sells. Nothing is further from the truth. Certainly a reputable publisher will handle all the layout, cover design, copyrighting, printing and numerous other functions involved in the book production process. Additionally, they will likely list it on their website, send out some news releases via mail or email, and list it in their own sales catalog, if they have one. They may even take it to trade shows for display and to sell. For these services, they will typically get 85 percent or more of the profits from sales… and you will still be expected to shoulder most of the responsibility for promoting or marketing the product.
Should you decide to go the independent publishing or self-publishing route, you can increase your profit margin, but you will also take over all the functions normally handled by a publisher. In addition, you will also have to market the book.
No matter what approach you pursue, here are three easy ways to promote your new book and generate sales:
Book website. Buy the domain name for your book based on the title (e.g. www.abcsofbookmarketing.com) and create an electronic brochure on the site, which provides at least a synopsis, table of contents, sample chapter, author biography, price and means of purchase.
Professional business cards. Have professional looking business cards printed for you and your book(s). Create an author business card that has your name, contact information and photo on the front and the names of your books (if you have multiple publications) or short synopsis of your single book on the back.
In addition to the author card, have special business cards printed for each of your books for distribution at trade shows, presentations or to pass out to people you meet and tell about the boo. Have a cover image on the front along with your personal website domain and a short synopsis on the back along with info on how to order on the reverse.
Bookmarks. For people who read printed books, you can provide a "bookmark" as a helpful tool for them to remember where they left off when they close a book. These little markers are typically printed on paper that is approximately 8" X 2" with information printed on both sides. A 14 or 15 point cover stock paper is often used for glossy or matte printing in four-color. You can also just print in colored ink on heavy cover stock paper to cut costs, but this lacks the "pizzazz" to grab people's attention.
Your purpose for using the cards will dictate what you print on them. You might want to promote your company, book, or product, or simply highlight yourself with a list of your publications and services. In any case, consider using a professional photo of yourself, book(s), or product(s) along with text since that attracts attention and helps with the branding that you seek.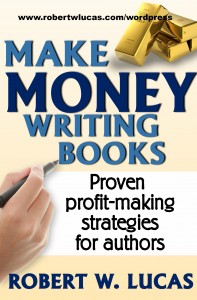 For additional creative and functional proven book marketing techniques for promoting yourself and your book(s), get a copy of Make Money Writing Books: Proven Profit Making Strategies for Authors.