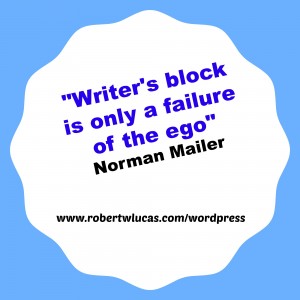 Many new and experienced authors occasionally experience writer's block from time to time. This seeming inability to come up with a topic or words to say related to it can be caused be numerous things. For example, inexperience or lack of knowledge on a topic, personal or professional issues that are distracting the mind, fear of failure or not being accepted by readers, or simple disinterest in the writing process. The latter can occur when you are required to create an article or material for your job or as part of an assignment in school or other venue.
The key to overcoming this condition is to stop, take a deep breath, gather your thoughts and just get ideas about a topic onto a page. It sometimes help to talk over ideas with others or to spend some time doing an Internet search on a desired topic  to see how others have approached it and what they have said.
For ideas and strategies on how to be successful as an author; check out Make Money Writing Books: Proven Profit Making Strategies for Authors.