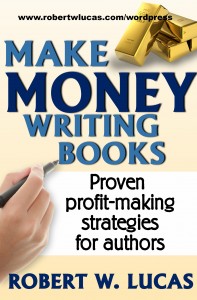 Many authors often leave money on the table by failing to follow-up their book(s) with residual products and materials that can either enhance, complement or add to their book content or serve as tangible reminders of content or characters. Think of how many well-known authors capitalize on the passion of their fans by creating a series of items that are purchased after they read the author's book(s). For example, consider the residual and passive income streams being generated by J. K. Rowling, Jack Canfield, Dr. Suess, and Rachael Ray. Visit the websites for these famous authors to get an idea of potential products and materials you might create.
Authors can make money by creating product lines to complement and support their writing. They can also increase their personal and book brand by placing items in stores and online that remind people of books being published by the author .
Depending on your book genre, here are some potential sources of income related to your book(s):
Audio products (e.g. MP3, CD, or Webinars) that contain readings from the book.
Visual products (e.g. DVD or training sessions) of you or someone else teaching a session based on the content.
Mobile apps for smart-phones and electronic devices based on book content.
Slide presentations based on book content.
Cups, hats and shirts with topic themed words, concepts, quotes.
Workbooks that accompany the books.
Journals where readers can jot down notes, thoughts, ideas, and action plans based on what they think of while reading the book content.
Buttons with clever sayings or quotes.

For additional ideas on ways to brand yourself and books while generating passive and residual income streams, get a copy of Make Money Writing Books: Proven Profit Making Strategies for Authors.