Writing is for the most part a solitary activity with you and your computer or notepad sitting alone for hours and days on end.  On the other hand, effective marketing requires you to blend solitary efforts (e.g. sending out news releases, creating media kits, writing blogs or developing marketing materials) with contact events (e.g. participating in media interviews, giving presentations, and networking at group events).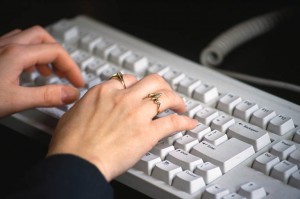 If you are an extroverted person, writing can be a painful process, and you will need to compensate by building "people" time into your writing schedule. That means taking breaks to go to lunch with friends, family, or colleagues to provide a mental break. During those breaks you can certainly discuss what you are working on and solicit ideas and feedback, but you should also focus on other non-writing ideas and subjects to help stimulate your brain neurons and exercise other parts of your brain. These are excellent opportunities to promote your books, share marketing materials, and educate others about what you do.
If you tend to be a more introverted person, you too might consider forcing yourself out into the world with others periodically so that you have a periodic change of venue, get some fresh air and exercise the body while bouncing ideas off others. All of these actions are important in making you the best that you can be when writing. Additionally, the contacts you make during these networking events will likely provide valuable resources when the time comes to edit and market your final product.
One thing I have found extraordinarily helpful over my writing career, and in life, has been to complete self-assessment instruments that helped me understand myself and others and my behavioral preferences a little better. These self-scored surveys can provide insights and validate understanding about the way you think and act in different situations and environments.
Some of the more popular surveys available today are the Myers-Briggs Type Indicator and the Personal Profile System (DiSC). These products can be purchased online from various distributors.  Recognizing what makes you think and act in a certain manner and whether you prefer people, tasks, or a combination can provide you with the mental tools to help determine in what ways you can best focus your writing talents and become proficient at written communication.