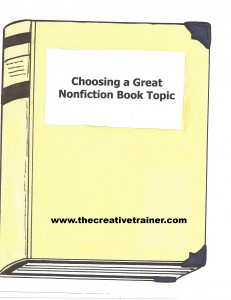 I have been asked many times about best way to identify a book topic and organize nonfiction content for books that are written for professionals or people seeking self-improvement. Like every other aspect of writing, my answer is often, "It depends…". That is because each writer is unique in their knowledge and experience level, personality, writing ability, and the way they approach a project.
The following is a strategy that works for me and that may be of value to you as well:
Brainstorm potential topics in which you have an interest and knowledge and expertise. Write them down so that you can visualize potential projects and have them recorded for future reference.
Research competitive publications to see what other books are in print on the topic(s) you have chosen and to see what content they cover. Also, check out the approach that each author has taken to organizing their content. This will help you with ideas on how to make your effective while making it different.
After you select a topic, start brainstorming what content you want to include in the book and create another list of these potential area. Once you have these written down, you can play with their organization and compare to other publications on similar topics.
Use your draft table of contents as a working document and modify as necessary and appropriate as you write and new ideas come to you.
I typically create a paragraph or so about what content will go into each chapter to help refocus my thinking as I get into the writing phase. This helps me stay on track as I write.
Next start writing the book content. Do not worry about how "pretty" the language is at this point and do not get involved in endless edits as you write. Just capture ideas and words in print. You can edit and change things later.
Related to writing, I suggest that you have a tentative schedule or timeline (e.g. you are aging to write "x" pages a day or whatever works for your style and schedule). You do not have to strictly stay with your schedule. If something comes up or you do not feel well one day, take time off to deal with it or recharge your brain.
Once you have several chapters written, sit down and read them before getting too far along. This will help you stay on track with your vision for the final product and allows you an opportunity to restructure as needed before you invest too much time. You might even have someone you know read through the material to see if it flows, is written in an interesting manner and to see what suggestions for improvement they might be able to offer. Again, at this point, do not worry too much about spelling, punctuation errors, and small details unless they are so severe that they impact reader comprehension.
After you finish your manuscript, give it to a professional editor who should read and correct grammar, syntax, punctuation and make suggestions on necessary restructuring. For example, they might find that you repeat information in several different chapters and that you might want to rewrite portions for clarity and effectiveness.
The key to effectively writing any book is to have a solid plan, stick to it and make the final product the most professional and effective publication that it can possibly be.