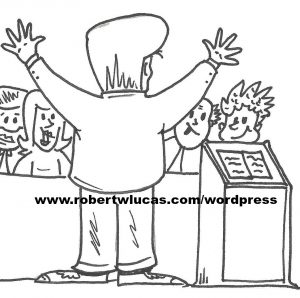 Would you like to have an established list of potential buyers for your next book before you even write it? Would you like to have other people selling your book for you at no cost by sharing information about it with their networks? If the answer to these questions is "yes," I suggest that you build your nonfiction author platform to sell more books before you get started on your first manuscript. This is especially crucial if you do not plan to self publish and will be contacting a potential agent or publisher. In today's highly competitive nonfiction book market, one of the first things they will ask for is information about your author platform.
You might ask, "What is an author platform?" Simply put, it is a vehicle that you use to get information about yourself, your expertise and your book out to potential readers. Your platform covers any means that you use to come into contact with possible customers who will buy your book(s). It includes presentations that you conduct for groups, LinkedIn, Facebook, Twitter, Pinterest, and other social media and websites through which you put forth information and interact with others. It also includes your professional website, sites on which you publish articles, printed publications in which your material appears, and any other place where you share information.
To begin your journey to build your nonfiction author platform to sell more books, consider taking a quick assessment of what pieces you already have in place. The following are some common elements that you will need to put in place as you proceed to build your nonfiction author platform.
Create a contact list. You likely already have a contact email list that includes people you know and with whom you have done some type of business. This is a good starting point, but you will need to consider formalizing your list a bit. You will need to segment those people who are truly potential readers or followers as you move forward with your writing efforts. Also, consider how you can grow and maintain your list. A simple and inexpensive starting place is MailChimp. You can set up a free account to get started. Just remember that there are laws requiring that anyone on your distribution list must agree to receive your messages. Even if they initially opted in to receive correspondence and information, you must put a statement at the bottom of any email message giving them to option to unsubscribe.
Develop a website and blog. There are differing opinions about whether authors should have a personal/professional website, a website dedicated to their book, or both. This is really a personal choice. Obviously, a professional site can have a page listing and selling your book(s), a blog and other information about you and the products and services you offer. Obviously, multiple sites means more time, effort and money to develop and maintain them. Personally, I have an assortment of sites that I have developed over several years – website, several blogs linked through my website home page menu, and several book sites. All of my sites link to one another and to my social media pages. I use this concerted effort to help Google and other search engines find me when people search my name and books. This is one of the key reasons I have gone to the trouble of creating a broader worldwide web presence with multiple sites.
Become a resource. Nonfiction authors who have products and services, or who offer content designed to educate or help others, can benefit by becoming recognized as an expert resource. You can do this by networking through various organizations (e.g. professional, business, social, hobby and religious). To maximize your exposure, volunteer with organizations and get on committees and boards in order get and stay in front of others. Regular active engagement helps people know and trust you. They are then more likely to recommend or use your products and services when the need arises. You can also speak at conferences, organizational meetings, libraries, schools or anywhere else you might identify. Share information on topics that you research, blog or write on and that will benefit others. Make sure that you notify local media and publicize your appearances on different Internet and electronic platforms (e.g. Twitter, Facebook, Linked In, or other favorite site). Certainly post dates, location, summaries and photos of your speaking on your blogs and social media. This helps potentially increase attendance, adds to your credibility and aids in search engines finding information about you.
As you see from this brief overview on the topic, there are simple ways to increase your opportunities when you take the time to build your nonfiction author platform to sell more books.
What strategies have you used or heard of that can help in building a successful author platform?