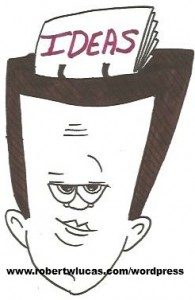 So you want to write an article or a book? You have attended workshops and learned the skills and have the tools to put words in print. Still, you are overwhelmed with the possibilities because you are a subject matter expert and have so many options for a topic. Where will you find book ideas that will sell or bring you the notoriety or recognition that you desire?
Generating book ideas can seem daunting for writers and authors of any experience level. You likely have interests in a variety of areas and have been storing thoughts on what you want to write "someday." No matter what you ultimately decide, a key element in potential sales success is to choose a topic that will be of interest and value to the largest audience.
The truth is that creative writing ideas and potential topics surround and bombard us everyday. We just need to become attuned to the signals and hone in on a marketable theme or idea. To do that, try some of the following strategies that I have used to choose topics for the thirty-two books and hundreds of articles that I have written, such as this one. I got the idea for this piece as I scanned book titles on my own bookshelves while on the telephone this morning. As I looked over the hundreds of books staring back at me, I wondered how people chose the titles that they did for some of the books. After all, the title you display on the spine or cover of a book is the first thing a potential buyer sees and strongly influences whether they pick up or explore the book further to determine if they will purchase it.
After you decide on a theme or topic are for your work, here are some additional strategies to consider in your quest for an idea on what to write:
1. Visit a local book store and go to the shelf where books in your desired topic area reside (e.g. business, novels, historic, fiction, reference, and so on). Scan the options there to identify themes based on the number of books present on a specific topic. If there are a lot of titles under that category, it is a hot topic and a potential candidate. Of course the down side is that if the market is flooded with books addressing a topic, you will have a LOT of competition and better have a dynamite entry that takes a significantly different approach and stands out. Instead of going with the crowd, you may want to go the other way and find an under-written topic and break out with a new theme that will interest or help people.
2. Do an online search of a specific topic that interests you by typing "books and articles on…" into the search engine. Check out the number of results to see how much interest there is in the area and how much competition you have.
3. Check out major online bookstores such as Amazon and Barnes and Noble. Combine the two ideas above and do a search to decide on a potential topic.
After you have decided on a potential topic and a working title, you are ready to get started with your masterpiece.
To help promote and sell your book, you will need an author platform of people and strategies to get the word out. My book, Make Money Writing Books: Proven Profit Making Strategies for Authors, can help. It provides over one hundred pages of strategies and ideas that I have used for over two decades to market myself and my book products.