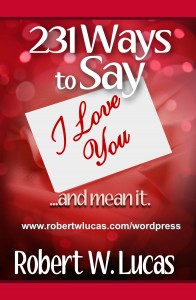 The latest book by Robert (Bob) W. Lucas — 231 Ways to Say I Love You and Mean It is now available.
The book provides a convenient reference source and reminder to anyone who is in love with another person and is looking for ways to add to or rekindle the excitement in their relationship. In it you will find many easy-to-apply, practical and romantic strategies for letting your spouse or significant other know that you love, desire and appreciate him or her.
The format of the book is simple and straightforward with a listing of the 231 suggested love strategies arranged into seven relationship-related categories. At the end of the book, you will find a "My Plan for Love" worksheet for capturing your own ideas for giving "love messages" on any given day. There are also dozens of useful resources listed at the end of the book to supplement the ideas and information you will read in 231 Ways to Say I Love You.
Readers will also find quotes related to love and relationships. These are thought- provoking and can be copied on notes or napkins to provide periodic messages of love to a spouse or significant other.
This is the perfect gift for a spouse or significant other, Christmas stocking stuffer, Valentine's Day, wedding, bridal shower or special occasion gifts, or for use in training and counseling couples.
Following are some advance reader comments about 231 Ways to Say I Love You:
"I just completed reading the newest publication of Robert W Lucas and I highly recommend it. It is good for couples dating, newlyweds, and those celebrating 30, 40, 50 and 60 years married. The message is loud and clear — COMMUNICATION. The great thing about this resource is that you can use it, share it, and make your own list of your ways to get to know your partner better and for making love a priority again." Barbara Tanzer, Co-Founder of TBSTravel
"This book works well for all ages.  I've been married 57 years and I found new strategies to make our lives together more memorable.  There are so many unique ideas that are easy to implement.  It is obvious the author has common sense flavored by his experiences and creativity.  Consider this book as a gift for your next bridal shower, a surprise for a good friend and most of all as a resource to expand your personal relationship with your loved one." Sylvia Foy, Retired Human Resource Executive
"Love is one of the great emotions of humanity.  Unfortunately, the challenges of daily life can erode the deep feelings and hope that only love can bring.  Bob's book provides simple yet powerful ways of keeping your love of life, of your partner, of your friends fresh and alive.  I recommend them all – and so will you!"  Lou Coenen
To get more information about the book or to order visit http://www.231waystosayiloveyou.com.