In my presentation to the Clay County Writers group this week, I shared the following two "secrets" for being a successful author. Maybe these will help inspire or focus your thinking as a writer.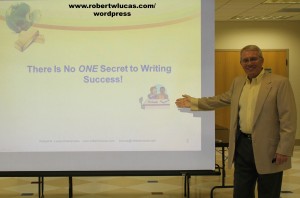 1.  There is no ONE secret to writing success. Every author approaches writing books differently based on his or her situation, commitment level, knowledge and skills. The key to being successful as a writer is to thoroughly do your research on the profession, hone your skills, create a plan for writing and marketing success, then commit the time and effort required to write and publish your work(s).
2.  Writing comes from the heart. You have to decide going into a project why you are writing the book. There are many reasons authors do what they do. Some of the reasons include: money, self-satisfaction, fame, to leave a legacy for their family or because they have a message they want to share. Only you can decide your motivator. Once you do that, you are more likely to continue to move forward because you will have a goal. I suggest that after deciding why you are doing it, that you write the reason on a piece of paper and post it near your keyboard or writing area so that you see it daily in order to remind yourself.