As I mentioned in my previous article on this topic, one question that I often get from new authors and writers is "How much does writing and publishing a book cost?" The answer is that "it varies."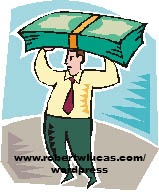 One thing that I strongly recommend is that you never pay for something you can get otherwise. Most people have knowledge and skills that others need and want. If you need a service (e.g. ghostwriting, word processing, transcription, editing, graphic and cover design, or printing) that you do not know how to do, barter for it with services you can provide. You might also trade something you have for what you need. Here are a few ideas to consider that can ultimately save you money:
Educate yourself. If you are going to be a successful author and self publisher, you are going to have to spend the time learning about the professions. You need to understand processes and terminology in order to effectively get the services you need and avoid pending money unnecessarily.
Spend only what you have. The last thing you should do is to go into heavy debt, or spend money you have not made from your writing. Never spend anticipated money. Wait until the check has cleared the bank or funds become available from sales.
Avoid rip-offs. Many first time authors fall prey to vendors who charge high prices and require up-front payments. For example, some vanity presses charge a large up-front fee to publish and distribute your books. Avoid such arrangements and seek printers and publishers who are more author-friendly.
Be frugal. Do not take out large loans or mortgages to fund your writing career. There are other ways to generate cash shown in this book and other sources that can help you determine a more stable fiscal approach to getting your name in print.
Barter. Do your research online to identify potential resources or bartering venues. Additionally, by networking with others, you can identify people who have the talents and resources that you need. Exchange your expertise for theirs.
Network.  Get out from behind your computer and meet people at professional meetings, in writers groups, in social settings, and just about anywhere you may be, even while shopping. Have your business card handy and talk about your project without giving away plots or too much information, and while using some common sense. Ask lots of questions about potential resources that can assist in your self-publishing journey and for recommendations on ways to reduce costs. You will be amazed how people will respond.