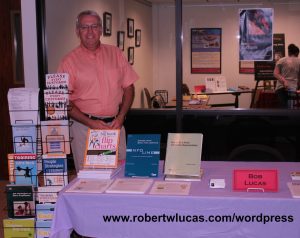 There are many ways for authors to effectively market and sell their books once published. Many authors and self publishers have relied of author book signings to gain exposure for themselves and their book(s). If planned and executed properly, these events are helpful in letting local bookstore personnel, potential readers and the media know about your latest masterpiece. You can also potentially sell some books in the process.
Following are three simple tips for planning and executing successful author book signings:
1. Make yourself memorable. Think of things that you can do that will help the bookstore manager, staff, and community relations coordinator remember you and your book. Certainly, you want customers to remember you. A simple way to make a positive and lasting impression is by being personable, smiling, and enthusiastically greeting anyone with whom you come into contact or who passes by your signing table. Many authors are introverts who prefer writing to networking with others. A book signing is no time to sit behind a table and wait for people to come you. They likely will not unless you are a noted best-selling author.
To demonstrate your enthusiasm, stand up, talk to people and, if someone stops by, put a copy of your book in their hands as you discuss the benefits of it to them and give your 30-second "elevator speech" about the book. If they stop talking to read the back cover or open the book to see what it is about, stop talking briefly and then ask a few brief questions that might seal their interest. For example, for my book 231 Ways to Say I Love You…and Mean It, which focuses on fun and practical strategies for enhancing communication, building trust, and adding the spark into a relationship, I might ask, "When was the last time you spent a set a goal of doing one thing a day to let your spouse or significant other know how much you love and care for them?" Based on a response that they do that regularly, I might tell them how commendable that is because most people do not think to do these things. I would then add that the book offers 231 proven ways to communicate love and caring and that it also has a self assessment and list of resources in the back. I would point these areas out in the book that they are holding to make my point visual, since some research shows that between 40-65 percent of people are visual learners. If they say that they do not regularly make an effort to share their feelings or thoughts, I might offer some of the statistics that indicate that people in strong caring relationship live longer, and then share a couple of ideas from the book that they can easily do to strengthen their relationship. The key to this whole process is to listen and then respond appropriately to your potential customer.
2. Provide the store's event coordinator with information. Make sure to get information about yourself (biography, list of awards, or upcoming local presentations) and your book to the community relations person at the bookstore. At least, provide a brief description of the book, several copies of your book cover, and other marketing pieces (e.g. page markers, postcards with book cover and description on them, business cards, flyers and brochures) for use in promoting your book and the event. Get this information to the coordinator at least two months in advance. Most stores will create a poster with your book cover and information about the event for display at the store entrance. If they do not, have your local print shop or office supply store reproduce a 27 X 35 inch laminated cover image with the time, date, and location on it. Get this to the community relations coordinator and ask that it be displayed in a prominent location.
3. Help promote the event. Get the word out about the event through all your social media sources multiple times before the scheduled date and ask friends and relatives to do likewise. Next, contact local news media (e.g. newspapers, radio and television) to let them know of the event. Also, check with local libraries to see if they will allow you to post a flyer on their bulletin board. If you are a member of a local religious, professional or nonprofit organizations, ask if they will announce the event in their newsletter, on their website, or through any other potential channels. Do likewise with local companies or businesses with which you have a personal or business relationship (e.g. your doctor, hair stylist, dentist, veterinarian, car wash, shop owners or others). Some supermarkets have community bulletin boards at the entrance and allow flyers about local events that can be posted for short periods of time. The key is to think outside the box about where the most people will see the information.
For additional ideas on how to enhance your personal brand, promote and sell books and related products, check out Make Money Writing Books: Proven Profit Making Strategies for Authors.