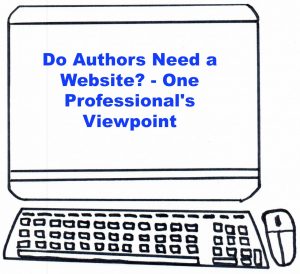 Do authors need a website? When I speak to author groups, I am often asked my opinion on that topic. Two questions that I typically receive include:
"Do I really need to spend time and money developing a website?"
"Should I have one author website that has information about me and my books or is having a book website to highlight and sell my book(s) better?"
Like many things related to writing, I believe that the answer depends on the individual. I'll briefly break down my perspective below and you can decide what will work best for you.
Keep in mind that a lot depends on your reason for writing in the first place. Some common motivators for authors include:
Wanting to share a message or ideas with others.
Desire for fame and fortune.
Wanting to leave a legacy for family and friends.
Opportunity to creatively express oneself.
Interest in helping others by sharing knowledge, skills and expertise.
Joy received from writing and seeing your message in print.
Do authors need a website? Should you have a book website? Should you invest in both types? all these questions are worth considering. Your purpose for writing will often determine whether you have an author website, book website, or both.
Author Websites
Many authors who are also speakers, trainers, consultants or professionals in other areas choose to have a website where they can highlight their background, expertise, services and products (e.g. books and derivative items).
The idea behind an author website is that there is a single location where clients, peers, professionals, friends, family, potential book readers and others can go to learn about you and what you provide. This includes people looking for:
Biographical information.
Photos of you and your product(s) and book(s).
Testimonials about your accomplishments.
Connections to any blogs that you host.
Media page where interested parties can download press releases, images and other information for publication or articles.
List of products and services offered.
Listing of articles that you have written.
Sales page where people can buy books and any other products you offer.
Links to all your social media connections, such as, LinkedIn groups that you host or a Facebook author page.
Resources that you offer visitors.
It is also a good idea to offer an opportunity for site visitors to opt in to mailing lists that you can use for marketing and informing followers. You can offer a free article, eBook, or chapter download as an incentive for people to sign up for your list.
Make sure that you link any book website(s) to your author website to increase the chance that search engines will find your sites and drive traffic there.
Book Websites
As you would suspect, the purpose of a book website is to highlight and sell your book(s). By having a dedicated site with a domain name that mirrors your book title, you potentially increase the chance that search engines will find your book. This can increase sales. It also reduces the chance that someone else with a competing book on your topic will buy a domain name with your title to drive people to their book.
Typically, on a book site you want to include at least the following information:
Cover image photo.
Back cover content.
Author biography and photograph.
Testimonials and reviews.
Table of Contents.
Description of the book and the benefits that buyers will derive from reading the book.
Sales page where you sell your book(s).
You might also want to offer a free chapter download as an incentive to get people to opt in to your mailing list. That list can later be used to send updates and information about:
Your current book.
Upcoming new book releases.
Newsletter.
Information about blog postings.
Announcements pertaining to author appearances.
Other things that might interest current and potential readers.
Make sure that you link any book website(s) to your author website to increase the chance that search engines will find all of your sites and drive traffic there.
Author and Book Websites – A Dual Approach
Do authors need a website? I believe the answer is definitely – YES! Personally, I have multiple websites. In addition to having a personal/author website (http://www.robertwlucas.com/) that promotes my company, services and books, I have other active websites. These are in the form of three blogs that I write:
I have also purchased numerous domains that are active or "parked" (not active websites at the moment). These dormant site names are for future use and to prevent someone else from grabbing domains with my titles or concept titles. My three blogs offer content in book categories on which I have written and do consulting and speaking. On each of the blogs, I regularly promote books that I still have in print on related topic areas.
Do authors need a website? I'll leave that up to you. My perspective is that websites provide another vehicle for getting the word out about you and your books, products, and services. By being more visible, you potentially increase reputation and revenue streams. All of this is part of building an author platform.
For more ideas and information on increasing visibility, personal branding and letting the world know about what you have to offer, check out Make Money Writing Books: Proven Profit Making Strategies for Authors.