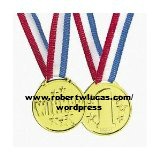 If you are looking for a means of getting publicity for your books, increasing your personal brand, and potentially selling more copies of your new book, consider entering one of the Writer's Digest Book Contests. While some categories have closed for 2013, others remain open at this time.
By entering writing contests for self publishers, nonfiction, fiction, children's, eBooks and other categories, you increase your opportunities for promoting your book at little or no cost. Consider the contests as ways to potentially enhance your author's platform and generate more money as a writer.
For more information about the contests, visit the Writer's Digest website at http://www.writersdigest.com/competitions/writing-competitions.