Social media and the Internet have become "the" place for authors to sell their nonfiction books and develop their personal brand. With a virtually free environment where you can connect with others to make them aware of your books, products and services, it becomes a no-brainer for you to consider these venues as part of your marketing plan.
Facebook, Twitter, LinkedIn, Flickr, classmates.com, Meetup, Pinterest and many other social media sites dominate the Internet to provide users interested in all types of content and interactions to network and share information (see Wikipedia for a partial listing of sites – http://en.wikipedia.org/wiki/List_of_social_networking_websites). Early sites were designed to create a place where people who shared a common interest could gather online, share information, photos, and video content , make connections, and pursue connections around the world.
In recent years, individuals, small and large companies alike have discovered the power of Internet and social media for marketing. They post information about their companies on their own logs, those of others, advertise on various social media sites, and create accounts where others can connect and follow them.
By looking at the user numbers found at http://expandedramblings.com/index.php/resource-how-many-people-use-the-top-social-media/ you can get a sense of why these sites have become so popular as an inexpensive market source for virtually all types of products and services.
As an author, you would do well to take note of the opportunities to connect with people in order to market your book(s) and other products and services. For example, you could take the approach of creating short 3-5 minute video clips to embed in articles that you write, post them on sites such as YouTube or on your websites, and pin quotes, images, information and other graphic items (e.g. your book cover) onto Pinterest. Since social media sites are basically free, it takes only a few minutes to establish a presence on various sites once you have some content to share.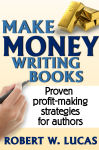 For additional ideas on how to effectively build an author platform, create a personal brand, and market your book(s), products and services on the Internet and through other means, get a copy of Make Money Writing Books: Proven Profit Making Strategies for Authors.