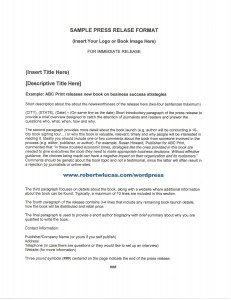 Whether you are a traditionally or self published author who is releasing print, eBook or both formats, you must get the word out before you can sell copies. Many authors look for ways to promote their upcoming or newly released nonfiction and fiction book(s), but often overlook the local media in their area. Local newspapers, radio and television stations often scan the local community for local celebrities as filler for their articles or on- air shows.
As part of your personal branding, book promotion efforts and overall book marketing strategy, do not overlook the humble press release as a means for getting the word out. Start by checking websites for local media and news stations to identify reporters or on air personalities who cover areas covered by your book content (e.g. entertainment, business, self-help or other genres).  This strategy also works for national known journalists and on-air personalities. Next, prepare a press release and send it to these people. Follow up shortly thereafter with a phone call. You can find dozens of sample press release formats for book  by searching the Internet for the phrase "sample press release for book."
There are even websites that allow you to go online to submit press releases. Check out http://www.ehow.com/how_7677886_submit-press-release.html as one possible source.
To identify other strategies for branding yourself and promoting your books, products and services and generating residual and passive income, get a copy of Make Money Writing Books: Proven Profit Making Strategies for Authors by Robert W. Lucas.