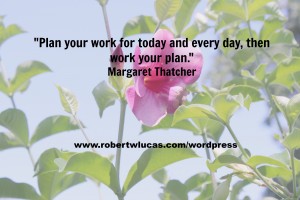 It does not matter whether you write fiction, non-fiction, articles, scripts, books or some other type material(s), you have to develop a plan and stick to it in order to be successful. Unfortunately, many talented and educated people who have subject matter expertise and strong creative abilities struggle with the writing process itself.
To succeed, you must master the skill of writing effectively, and the necessary grammar, punctuation and syntax knowledge that are required to communicate your thoughts in writing. Next you have to develop the discipline to follow a schedule that results in the desired work product.
One of the most important things that you have to believe is that writing is a job or business just like any other, if you want to earn money, fortune or fame. The first step to take in doing so is to find a writing schedule that is in tune with your personality, available time and circadian rhythm. This differs for each writer and once you find your preferred writing style, you must practice it consistently. This might mean writing for 30 minutes, "X" number of words, paragraphs, pages, or chapters a day. Also, writing at the same time so that you mentally block or allocate the time that requires you to sit in front of your computer to write or to dictate your message.
Once you master this basic technique, you can develop additional strategies for things like researching or brainstorming ideas or content or for networking to get other's people's opinions.