Authors often forget that they must sell themselves along with their books. The key to selling more books, is to project a positive, can do and professional image to everyone who sees you. Take a look in the mirror and honestly assess your physical appearance. Among other things look at the following and ask yourself, "Is this an image that says 'professional' author or self publisher?"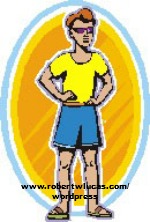 Hygiene and grooming – Am I someone with whom others would want to come into close contact (e.g. teeth brushed, mouthwash used, not too much fragrance, bathed, and hair neat and trimmed), makeup appropriate and neutral (if appropriate), and accessories conservative (e.g. glasses or jewelry).
Clothing – Is it neat, clean, well maintained (e.g. no stains, missing buttons or signs of wear and tear) and appropriate for the situation,
Shoes polished and well-maintained (e.g. heels and soles in good shape).
No matter whether you self publish or work with a publisher, it is crucial that you spend conscious effort selling or "branding" yourself. Just as professional marketers work toward gaining name recognition, building trust and establishing their organization as a key competitor in the workplace; so must you, if you plan to achieve personal and professional success.
Like anything else, branding yourself means managing your behavior and taking advantage of situations where you meet new people and gain new knowledge and skills or use current ones that you possess. By doing so, you are always ready to grasp new opportunities presented to you.
Do not wait for opportunities to come to you. Instead, continually do environmental scans to search for trends, events, situations or issues that would be a good fit with your strengths. Also, look for people who display similar knowledge and skills and observe how they use their talents to succeed and to identify potential markets or places into which you can also venture. Good starting points to accomplish these things are writer and publisher associations, conferences and professional networking events.
There are some excellent resources available to help you in your branding initiative. Do an Internet search for books and articles on the topic, social groups, and events that will allow you to network, and practice your "elevator speech" (short 30 second blurb about you and what you do presented in an interesting fashion that gets people asking questions about you and your book).
One resource that you might want to get is How to Make Money Writing Books: Proven Profit Making Strategies for Authors.