If you have ever said "I'm just not motivated to write anything" or I can't think of anything to write today," you are not alone. Many writers suffer from the occasional writers block. In fact, there are days when I can find many other things to do rather than add information to my blogs or write an article.
The reality is that if you do not write; no one else can do it for you (unless you are talking about a ghostwriter). If you want to develop products that can help develop your author platform, expand your scope of content and create potential revenue streams, you must develop a plan and schedule for writing and stick to it.
Stephen King summed u0p this concept is a quote: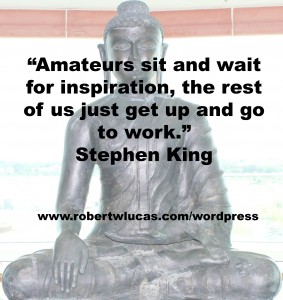 For ideas on how to develop residual and passive income streams and better brand yourself as an author, get a copy of Make Money Writing Books: Proven Profit Making Strategies for Authors by Robert W. Lucas.