In case you are not aware, you can visit the Kindle® store periodically at www.amazon.com to check for free eBooks on various topics. They are offered for limited time frames by authors who want to promote their book and generate reviews from people who download the books. This is an approach I took as part of the marketing strategy for my latest book, Make Money Writing Books: Proven Profit Making Strategies for Authors. As a current or aspiring author, you likely recognize the importance of reviews, so I encourage you to take a few minutes to provide those for any book you download.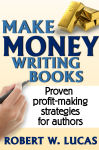 At any rate, I recently searched for free books on self publishing and found a long listing. Since these books are generally only offered free for a couple of days at no cost, you may have to visit Amazon to enter your own search criteria (e.g. free books on nonfiction writing, free books on blogging, etc).  Not only is this a good strategy for building your personal reference library, but it also saves you money.
For those of you who do not own a Kindle® reading device; you can download a free Kindle® reader application for your Android® phone or tablet, iPad® , iPhone® , Mac®, Windows® 8 PC or tablet, BlackBerry® , or Windows® Phone. Once you have the application on your device, you can search the Amazon Kindle store for books, magazines and other publications you want to order and download — some of them free!
You can also sign up for a 30-day free Prime membership on Amazon. This gives you the ability to get free two-day shipping on orders, download and stream unlimited videos and TV shows and borrow eBooks each month through the Kindle store (just like going to a library).
Happy reading!