If you want to make money as an author and get your books known, you have to invest some time and effort into letting people know they exist. While professional marketing materials might require a bit of a financial commitment; they are worth it. That is because they are your public "face" and people often form opinions about you and your books based on their perceptions of you and what you do.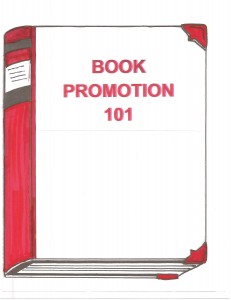 Think about how you have seen successful people and organizations promote their products and services.  They create "stuff" that tells their story and keeps them in the public eye.
An old marketing research formula called the "Rule of Seven" points out the necessity for people to see or hear something seven times before they will act on it or make a purchase. While that number may not be set in concrete, it does point to the fact that you must get your message out multiple times and in various formats in order to become a memorable entity and have people decide to become your customers.
Here are three strategies that can help promote your books:
Professional business cards. While it is tempting to take a short cut and print your own cards on your computer, I suggest spending a small amount and have professional looking color cards done by a print company. Cheap alternatives (e.g. VistaPrint) abound online.
Depending on how many books you have published, there are two approaches to the idea of creating a professional looking business card.
Create a personal business card with your photo and contact information.
Create business cards for each of your books if you plan to promote them individually at events.
No matter which type card you print, include complete name, address, phone, email, website and other identifying information, a photo of you or your book cover and use the back for a listing of books, services or description of your book (if you only have one) or a Table of Contents (if appropriate).
Get these cards in the hands of as many people as possible.  Always have some with you.
Product brochures. The key to an effective brochure is that it should be professional, colorful, eye-catching, informative, and brief.
Include only key aspects about your books (e.g. book cover image) and products along with a brief biography. Don't forget to make your Website domain name where people can obtain your materials prominent in several places. Also, ensure that there is contact information for readers to get back to you.
Book flyers.  Single or double-sided sheets of paper or flyers that have information about your books can be very useful and inexpensive as a reminder of your books and/or products that potential customers view at a trade show, presentation, or other event.
By having these forms at attendee locations or on tables with your books or other products, you provide something that people can take away to remind them to visit your Website or order over the telephone.
Brochures can also share information about you and your products with others which increases free word-of-mouth advertising. Use color images to attract attention and indicate a higher level of quality.
For more ideas on generating sales and branding yourself and your book(s) and products, get a copy of the eBook,  Make Money Writing Books: Proven Profit Making Strategies for Authors by Robert W. Lucas.