Editors are NOT one size fits all. Just as your works are unique to you, your style, your presentation of the materials, your editor should be an asset to the project and help you polish your work to the gem your audience expects.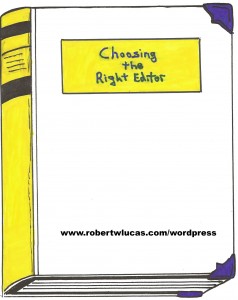 Here are 3 keys in choosing the right Editor for YOUR work:
Your editor should be well versed in the subject you are writing about. You do not want your editor holding you back because he or she does not understand the material, or does not know resources to access to gather illustrations or other supporting documentation to supplement your writing. Remember to ask the Editor about his or her experience with the subject matter, and if it is not suitable for the prospect to be called a subject matter expert, then move on.
Your editor is vital to keeping things on track. This means deadlines and keeping all the documents allowing permission for use of photographs, quotes, drawings, and any other supplementary materials that support your writing. Ideally, your editor will practice good project management skills, bringing things together on time, within budget, and keeping all necessary documentation in place. The question to ask is, "Tell me about other editing projects you have worked on, how they proceeded, and what the key was to completing successfully." If he or she cannot provide examples and share successes and challenges, then keep looking for your editor.
Your editor should be very familiar with your format(s). Preparing a textbook is different from creating a Kindle e-book, for instance. Reports are different from Websites and public relations pieces are different from information needed for bookstore sales. Does your editor know what is needed in which format and how to make your work stand out? Consider your information is valuable and potentially life changing to your audience. It would be too bad if your editor could not assist you with the help you need for your work to be a success.
Your editor should help you focus on your passion for writing, networking, creating sales, doing public relations events, speaking, and other activities by taking the work of editing, formatting, correcting, documenting clearances, and posting off your plate.
Contact Dr. Massen at P.O. Box 53, Westerville, OH 43086  (614)794-5738  trents1940@aol.com